Business Permit of Remittance Service
Digital Idea Co.,Ltd. started in the digital content and online music streaming service, later on we launched the online shopping platform for migrant workers in 2016. As of July 2023, we officially obtained the business license for Small Amount Remittance Services for Foreign Migrant Workers granted by the Taiwan's Financial Supervisory Commission, and is now a financial-technology service company that specializes in providing small-amount cross-border remittances for foreign migrant workers.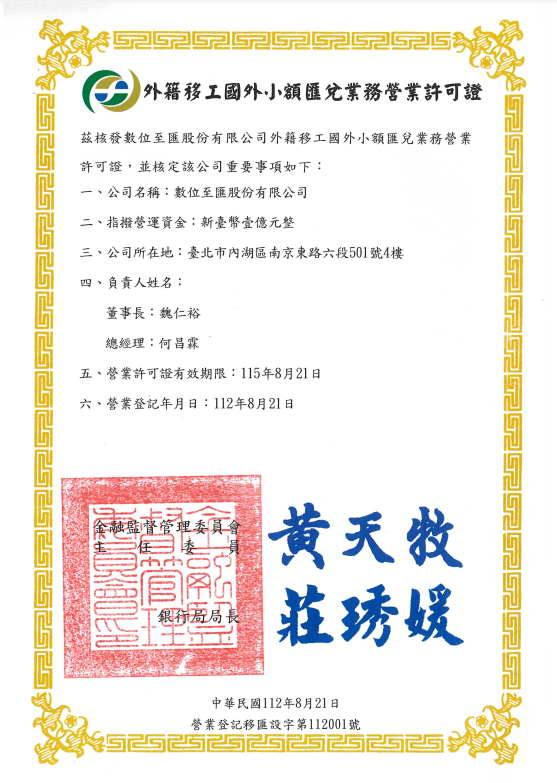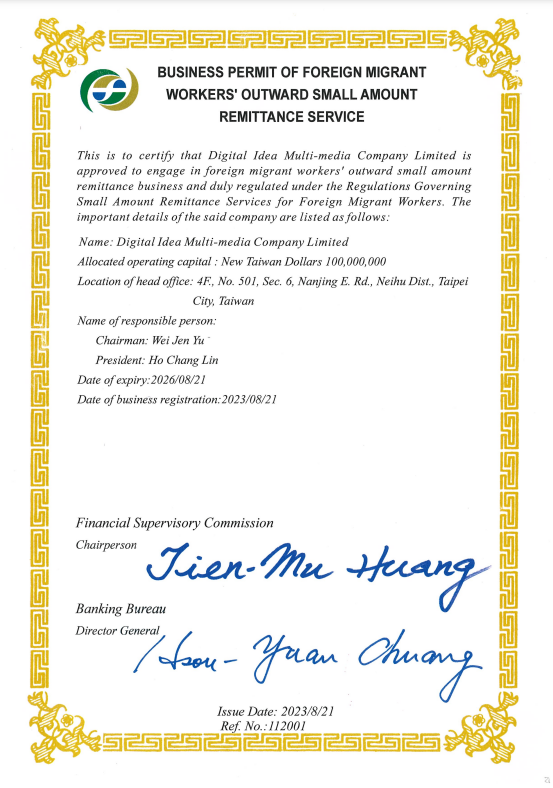 Indogo

Our Company has a deep understanding of the lives and needs of foreign migrant workers in Taiwan as we have considered how digital technology might be used to solve the inconveniences surrounding the making of remittances, arising from language barriers and limited freedom to venture outside. With the technical development expertise of Digital Idea Multi-Media, the "IndoGo" brand was therefore established in 2016 to create convenient remittance services tailored for Indonesian migrant workers. We have thus created an innovative remittance model of [APP ordering and entrusting foreign exchange settlement] + [supermarket remittance collection on others' behalf]. The Company has signed direct contracts with the four major supermarkets for entrusted collection and so is cooperating with more than 10,000 chain supermarket locations in Taiwan to allow migrant workers to complete remittance payments close to home. The legal remittance of funds to designated accounts of migrant workers solves the problem of remittances for the well-being of many families with low freedom to go out, and makes "IndoGo" a familiar and trusted remittance brand in the minds of Indonesian migrant workers.


Govn

OFollowing the success of IndoGo, We (Digital Idea) subsequently established GoVn as the remittance service for the vast majority of Vietnamese migrant workers in Taiwan, and eventually obtained the approval from the competent authorities. Using the similar model of innovative remittance service via "Entrusted Foreign Exchange through App" + "Convenient Store Money Collected", we gradually reduce the inconvenience and allow migrant workers to safely and quickly transfer money back home.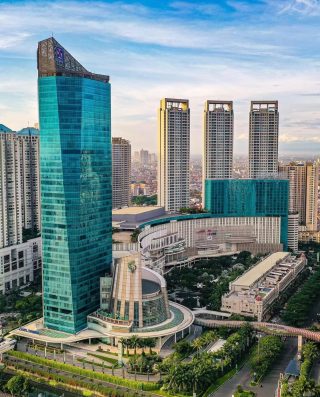 PT Indogo Express Remittance
In order to deepen the remittance business of Indonesian migrant workers and cooperate with the government's New Southbound Policy, a wholly owned subsidiary was established in Indonesia in 2019, called PT Indogo Express Remittance. In October 2020, it successfully obtained the Fund Transfer Operator License issued by the Bank of Indonesia, making the remittance business more efficient and compliant.
Based in Taiwan, Looking toward Asia
With our additional targeting of migrant workers in Southeast Asia, the Company will successively establish subsidiaries in East and Southeast Asian countries or cooperate with local partners to build a complete cross-border financial clearing network.